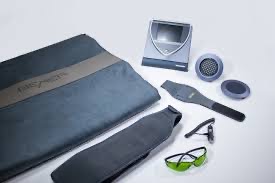 PEMF stands for Pulsed Electro Magnetic Frequency
What is Pulsed Electro Magnetic Frequency? It produces a mild electrical magnetic current into damaged cells, increases the blood flow of the cells, and re-establishes normal cell interaction. With reduced inflammation, pain decreases, energy increases and faster tissue healing occurs.
What is vasomotion?
There are microscopic vessels that connect the cells to the blood. These vessels deliver the necessary substances such as nutrients and oxygen into the cells from the blood and transport metabolic waste products away from those same cells.
The oscillation of these microscopic vessels is called vasomotion. You have about 35 trillion cells in the body. All those cells are connected to the blood by these microscopic vessels.
Fun Fact: If you line up all your microscopic vessels, end to end, you could circle the earth 2.5 times. It is a very extensive microscopic vessel network.
The Bemer increases the delivery of nutrients into the cells including oxygen, by 30% within 2 minutes of lying down on the mat. That effect continues for 12 to 16 hours, after each use. At the same time, you have 31% of toxins being released from the cells, thus, improving your cell vitality.
Your cell's vitality depends on the oxygen and nutrients going into each cell. As we get older our bodies are less able to have that delivery because the microscopic vessels are degenerating. Due to physical and/or emotional stress, those microscopic vessels oscillate (called vasomotion) only about once every few minutes or once every 10 minutes for people who are really stressed. In a young person, vasomotion happens 5 times per minute. The importance of vasomotion to bring in oxygen and nutrients on a cellular level is so critical to our vitality. With regular use, the Bemer restores your vasomotion to what it was when we were younger. It restores it to 4-5 times per minute.
The Bemer offers regenerative medicine in a measurable way. Independent labs have shown this 30% increase in oxygen nutrient delivery. The FDA demonstrated it. NASA demonstrated it. Those effects are clearly demonstrated to show that you can restore youthful circulatory health.
DURING YOUR SESSION YOU WILL LIE ON THE BEMER MAT FOR 8 MINUTES AND RECEIVE A 20-MINUTE BEMER TREATMENT (WITH THE B-PAD) ON A SPECIFIC AREA ON YOUR BODY WHICH YOU CAN DECIDE. THE B-PAD IS A SMALLER VERSION OF THE BEMER MAT THAT CAN BE STRAPPED AND APPLIED TO A LOCALIZED  AREA ON THE BODY, WHICH YOU CAN DECIDE.
PRICING TABLE BELOW 
TWO 20 MINUTE SESSIONS: $45 (Add-on with other sessions: Biofield Tuning, Crystal Light Therapy, Far Infrared Sauna. etc.
TEN 20 MINUTE SESSIONS: $200
TWENTY 20 MINUTE SESSIONS: $375